Meet our MS Nurse Advisors, Jane and Bridie
The incredible effort of MS Gong riders to make their kilometres count and fundraise to Fight MS is making a difference.
MS Limited is one of the only places people newly diagnosed with multiple sclerosis can turn to for information and support as they begin their journey and learn to cope with the disease.
Meet our MS Nurse Advisors, Bridie and Jane, as they share the importance of their role in supporting people living with multiple sclerosis. Jane and Bride have shared a message to say THANK YOU to MS Gong riders, for their amazing efforts in raising vital funds that make a life-changing difference to people living with MS.
Meet Bridie
Bridie's pride in being an MS Nurse Advisor comes from knowing she is making a difference to people with MS. Bridie's role as an MS Nurse advisor is unique. She delivers her support and advice to people locally, and in remote and rural settings.
Through online meetings or phone consultations, Bridie ensures clients have as much one-to-one support as they need.
"No topic is off the table. I get personal fulfilment in knowing I can make a difference by listening to someone tell their story, help them access supports and resources, or lead them in the right direction to manage some debilitating symptoms."
People with MS live with compromised immune systems. As the COVID-19 pandemic took hold, there was a sharp increase in demand for our support and advice. The virus has resulted in more concerns and complex considerations for people with MS, at the same time as moving the the delivery of the management of their ongoing symptoms and treatments to a remote platform.
Bridie says, "I would like to thank our MS Gong Ride fundraisers on a professional and personal level for taking action to support people living with multiple sclerosis. You are making it possible to provide support, education and to empower our clients to live and enjoy life."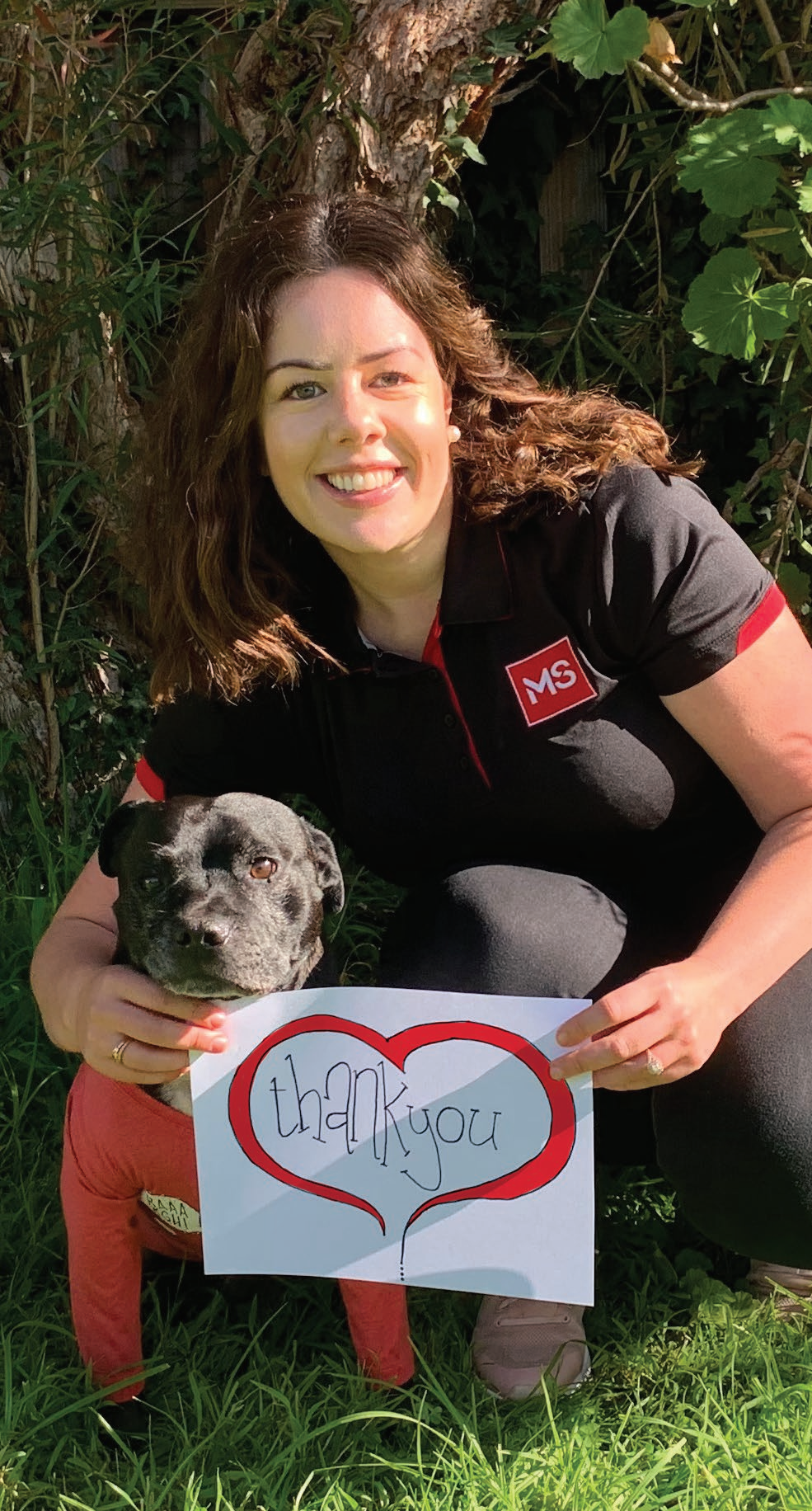 Meet Jane
MS Nurse Advisors provide valuable support and specialist advice to people living with multiple sclerosis. MS Nurse Advisors are able to provide information and support around MS diagnosis, offer education around treatment options, share advice on symptom management and other external supports and services.
Jane was drawn to the role and the MS community because she could see there was room to help so many people in need.
Jane says, "Multiple sclerosis is not a common condition, so it's hard to know where to go if you need more help, information and support."
"With YOUR generous support, I'm available 9am to 5pm, Monday to Friday to be there for anyone in need."
Jane's average day is not scheduled. She can spend as much time as a person needs to talk through any concerns, listen to their frustrations, educate them on new concepts and help solve problems.
Jane's passion for her role has led her to become an internationally certified MS Nurse, which allows her to continue providing the highest quality support to people living with multiple sclerosis and their families.
It's only possible that this support is available for FREE to those in need, because of the hard work of MS Gong riders.
Jane says, "I can't thank you enough for making this possible. No one should face MS alone. Thank you for your amazing fundraising efforts, without you, none of this would be possible."
What people with MS have said about our MS Nurse Advisors...
"Talking to you was really informative, comforting and helpful. I appreciate the time you took and the support you and MS Connect offer people like me."
Kylie, 49 years old
"Jane was beautiful and I was treated respectfully as a person living with MS. I feel far more at ease about myself since talking to Jane and seeing her is the most uplifting and positive thing since having MS diagnosed 40 years ago."
Robyn, 76 years old
"Dear Bridie, Many thanks... So very grateful for your time, knowledge and care today. Lifesaver. I was feeling so lost and you, wise, kind woman, made me feel so much better."
Jenny, 55 years old
Thanks to MS Gong riders, this vital support is provided for FREE to people living with multiple sclerosis.
MS is one of the only organisations dedicated to supporting people with MS, which means we're the place people can turn to for information and support as they begin their journey and learn to cope with the disease.