Glenn Davies just donated $204.62
Philip just donated $31.32
Anonymous just donated $156.60
George Tsoukas just donated $50.00
Benevity - just donated $250.00
Daniel just donated $52.56
Jo Ellem just donated $52.20
Benevity - Dolby just donated $95.88
Benevity - Dolby just donated $202.04
Benevity - Dolby just donated $49.15
Benevity - ServiceNow just donated $45.33
Benevity - Teradata just donated $45.65
Benevity - Teradata just donated $69.48
Benevity - Teradata just donated $45.68
Benevity - Atlassian just donated $97.10
Benevity - Apple just donated $52.20
Benevity - Apple just donated $249.75
Benevity - Apple just donated $388.50
Benevity - Apple just donated $1051.41
CELEBRATING

40 YEARS

OF CHANGING LIVES!
Join thousands of cyclists in our 40th year of this epic event!
Challenge yourself on either the 58km or 82km courses of Australia's most epic cycling event from Sydney to Wollongong. Experience the ride of a lifetime and help fight multiple sclerosis.
You'll pedal along a stunning natural backdrop as you make your way through the Royal National Park, enjoy the incredible ocean views from Stanwell Tops, ride over the breathtaking Sea Cliff Bridge, before crossing the finish line in Wollongong amongst a backdrop of surf, sun and sand.
Places are limited and will sell out early.
Are you up for the challenge?
DATE
Sunday 7 November 2021
DISTANCE
82KM
START LINE
Tempe Recreation Reserve, Tempe
FINISH LINE
W.A. Lang Park, Wollongong
START TIMES
6.00AM - 8.00AM (Rolling Waves)
COURSE
View Course Maps
AGE LIMIT
12 years or over on Event Day.
Riders between the ages of 12 and 17 are the responsibility of their guardian,
and must remain with them for the duration of the ride.

SIGN UP
Register for the 2021 MS Gong Ride. Places are limited and will sell out early!
MAKE A DIFFERENCE
Share your challenge with friends and family, and fundraise to FIGHT MS!
RIDE TO FIGHT MS
Join thousands of dedicated riders on a epic ride from Sydney to Wollongong!
ADULT ENTRY
AGES: 18 +

$145
$87
SAVE $58!
EARLY BIRD
2,500
ENTRIES ONLY
JUNIOR ENTRY
AGES: 12 - 17

$87
$52
SAVE $35!
In support of everyone living with MS, as long as my legs continue to work I will keep challenging myself in the MS Gong Ride. No matter how tough it gets, I think about how Dad (living with multiple sclerosis since 2010) would love to be doing the ride with me and am thankful that I can get on a bike and ride.

Chris Stoddard
MS Gong Ride Participant
YOUR RIDE IS MAKING A DIFFERENCE
27,640
times last year, people reached out to our helpline MS Connect and were met with a caring person to listen and help them
1,610
people received specialised advice from the MS Nurse Advisor and Social Work Advisor Service last year
4,567
people registered for an MS Education and Wellbeing webinar in the past year to better understand multiple sclerosis
604
people joined the MS Peer Support Program throughout the last year to connect with others living with multiple sclerosis
CHALLENGE YOURSELF SOLO
The routes are safe and enjoyable for solo cyclists out for an epic day's ride. The Gong Ride community is naturally social and supportive, so you'll have no trouble joining others for training or during the event. It's a great vibe, you'll make plenty of friends on the day!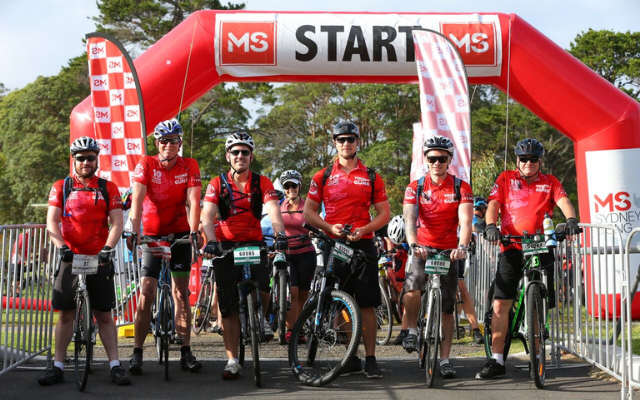 TACKLE IT AS A TEAM
Why not share this iconic experience with your colleagues, mates and family? Teaming up helps with not only your training and fundraising but also logistics on the day. Grab a bunch of mates, get your places early and go for it!
MSL is committed to reducing our environmental impact

We all depend on the environment and its natural resources. Therefore, we are striving to live and work in harmony with nature. To commit to a green earth, we raise awareness and make an effort to minimise our impact on the environment where possible.
Measures will be implemented where possible to ensure we can achieve the planned initiatives to the best of our ability.
Initiatives include reducing the amount of waste created during the event preparation and providing participants clear information about availability of bins and the type of rubbish that they take. We also encourage participants to bring their own plates and cutlery to use at events where a BBQ is provided.
Use 100% Compostable Satchels to send merchandise orders
QR Codes to replace paper event day registration forms
Event staff will be leading by example, using Reusable Cups and Bottles
Going Paperless, where possible, during event planning
Collaborate with the event venues to provide appropriate Waste Management
Event apparel is now Made to Order, to avoid oversupply