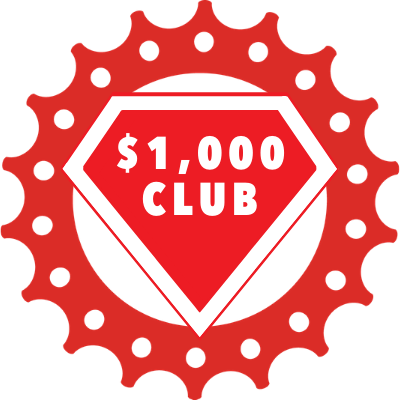 I'M RIDING 200KM THIS OCTOBER
TO FIGHT MS
I'm taking the Challenge to fight MS!
Aside from looking forward to joining others in the fun and atmosphere on the day, I'm taking part to raise funds to support people living with multiple sclerosis. 
Multiple sclerosis affects more young people than any other chronic neurological condition and average age of diagnosis is 30. It can strike anyone at any time and the systems vary so widely.
As you may know I have MS. I can't run anymore, my walking isn't the best, I have various symptoms that a lot of people wouldn't be aware that I have.

But I can still ride my bike and I'll continue to do this ride each year, for as long as I can.
I'm riding to raise money for MS Australia, so that they can continue to provide assistance to others with MS. Please do what you can to donate. Every donation is appreciated, no donation is too small.
I'M RIDING
200kms

TO FIGHT

MS
MY CHALLENGE STARTS IN
CHALLENGERIDES
0
CHALLENGEKMS
0kms
Engineering Business
DISTANCE ACHIEVED

AMOUNT RAISED


ALAN SMITH


40TH MS GONG RIDE CLASSIC




ENGINEERING BUSINESS

TARGET:

200KM

TARGET:

$1,000

DAVID MIKHAIL


40TH MS GONG RIDE CLASSIC




ENGINEERING BUSINESS

TARGET:

0KM

TARGET:

$1,000

PETER MIKHAIL


TEAM CAPTAIN




40TH MS GONG RIDE CLASSIC




ENGINEERING BUSINESS

TARGET:

0KM

TARGET:

$350

RAMY MEGALAA


40TH MS GONG RIDE CLASSIC




ENGINEERING BUSINESS

TARGET:

0KM

TARGET:

$350

BELINDA MIKHAIL


40TH MS GONG RIDE CLASSIC




ENGINEERING BUSINESS

TARGET:

0KM

TARGET:

$350

THOMAS MIKHAIL


40TH MS GONG RIDE CLASSIC




ENGINEERING BUSINESS

TARGET:

0KM

TARGET:

$350

DANIEL MIKHAIL


40TH MS GONG RIDE CLASSIC




ENGINEERING BUSINESS

TARGET:

0KM

TARGET:

$350

PETER RYAN


40TH MS GONG RIDE CLASSIC




ENGINEERING BUSINESS

TARGET:

0KM

TARGET:

$350

OLIVER THORNHILL


40TH MS GONG RIDE CLASSIC




ENGINEERING BUSINESS

TARGET:

0KM

TARGET:

$350

PHILIP BEDWANI


40TH MS GONG RIDE CLASSIC




ENGINEERING BUSINESS

TARGET:

200KM

TARGET:

$350