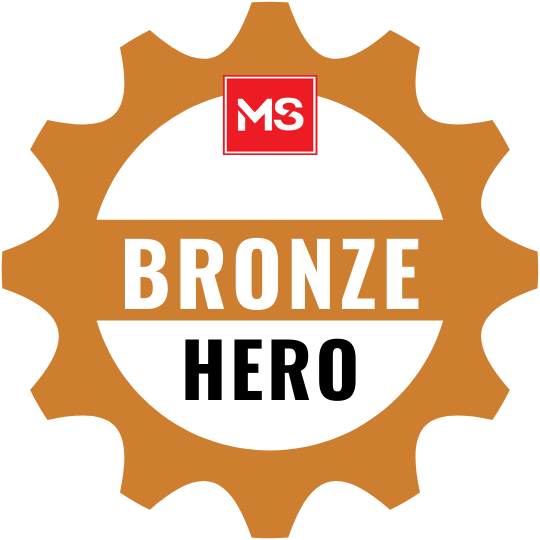 Fundraising Rank: 19 / 1,710
I'M RIDING 650KM THIS OCTOBER
TO FIGHT MS
My Activity Tracking
Distance
1,009km
My Goal
650km
Distance Rank: 79 / 1,708
I'm taking the Challenge to fight MS!
I am taking part in the MS Gong Ride Virtual, the Ride to Fight MS.
Why am I fundraising?

My wife Karen Ellison was diagnosed with MS just after the birth of our son Alex Carter (8/5/99). She has been among the lucky ones with reasonable mild symptoms that have stabilised.
In 2014 Alex decided to ride MS Gong so I said I we would ride it together! I spent 6 weeks training and Alex joined me on a couple of my training rides. We lined up together at the start and rode together until the 1st set of traffic lights (~150m). After the lights changed to green I didn't see him again till I crossed the finish line in Wollongong where he was waiting for me.
2015 was much the same except I lost sight of him at the start line.
2016-2019 Alex was busy with his HSC and UOW exams but I continued to ride. Alex did take part in the MS Wellness Run thou. 
This year Alex completed his Bachelor of Science Degree (Chemistry) in July and his Honours Research Project accepted by UOW. And I thought he would join me in the ride. But sadly he passed away on 8/9/20.
So this year I am riding to honour Alex who so inspired me.
It's quite staggering to think that multiple sclerosis affects more young people than any other chronic neurological condition. It can strike anyone at any time and the symptoms I start my challenge on 1 October. You will be able to see my progress here on my page and support me along the way!vary so widely.
For instance, can you imagine waking up one day unable to do the everyday things you would usually take for granted? Like not being able to see properly (or at all), you physically can't get out of bed, can't walk to the phone to call someone – anyone – or  live a life without pain?
All of a sudden, your world has changed.
Thanks to your generous support, the funds we raise will allow people living with multiple sclerosis to access vital MS support services. Support to keep Aussies living with multiple sclerosis connected to others and connected to the information and services they need to live their best life.
Thank you again for your support!