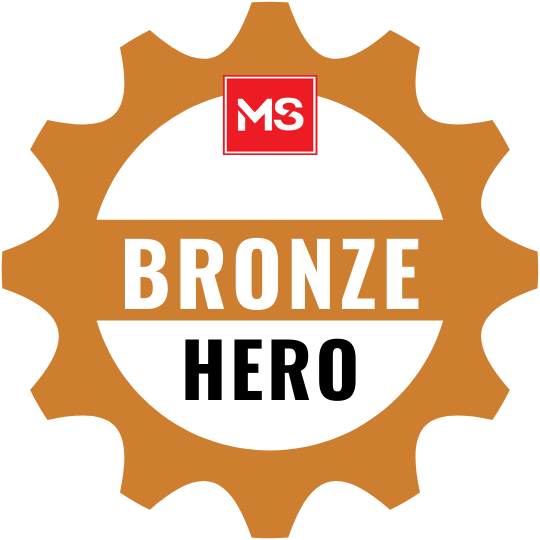 Fundraising Rank: 51 / 1,710
I'M RIDING 815KM THIS OCTOBER
THE DISTANCE FROM
Melbourne TO WOLLONGONG
My Activity Tracking
Distance
1,022km
My Goal
815km
Distance Rank: 69 / 1,710
I'm taking the Challenge to fight MS!
I am taking part in the MS Gong Ride Virtual, the Ride to Fight MS.  This year, being virtual, participants can ride from many destinations to Wollongong.  I have chosen a virtual ride from Melbourne to Wollongong: 815km throughout the month of October.  Every ride I do will count towards my km goal.  
I am also aiming to raise $1 per km ridden.  $815 to help people with MS.  I started my challenge on 1 October. You can see my progress here on my page and support me along the way!
STOP PRESS: Original target exceeded on 11th Oct! Target has been increased to $2 per km ridden.  A VERY BIG THANK YOU TO ALL MY SPONSORS SO FAR!

UPDATE 16th October 2020:  I've doubled my original fundraising target of $815 (or $1 per km of the distance target) and I now have $2 per km of the distance target.  That means I have to honour my promise to turn round and ride back to (virtual) Melbourne in November!
UPDATE 19th October 2020: $2,000 in fundraising reached.  VERY BIG thank you to my colleagues at Novartis for getting me past this major milestone today.
Update 24th October 2020: Distance goal achieved! I've made it from (virtual) Melbourne to Wollongong.
Why am I fundraising?

Multiple sclerosis affects more young people than any other chronic neurological condition. It can strike anyone at any time and the symptoms vary widely.
For instance, can you imagine waking up one day unable to do the everyday things you would usually take for granted? Like not being able to see properly (or at all), you physically can't get out of bed, can't walk to the phone to call someone – anyone – or  live a life without pain?
All of a sudden, your world has changed.
Thanks to your generous support, the funds we raise will allow people living with multiple sclerosis to access vital MS support services. Support to keep Aussies living with multiple sclerosis connected to others and connected to the information and services they need to live their best life.
Thank you again for your support!