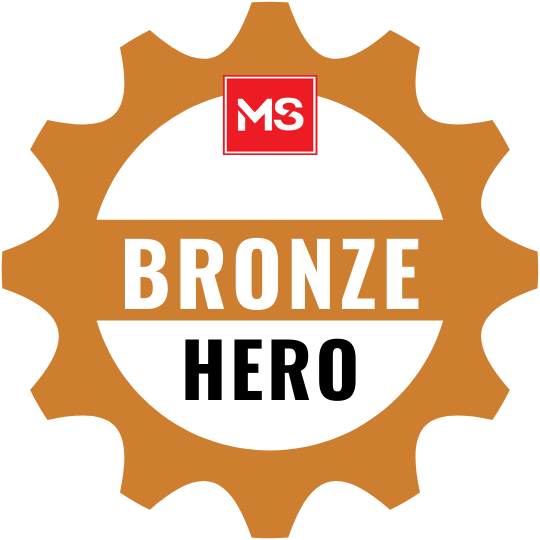 Fundraising Rank: 27 / 1,706
I'M RIDING 82KM THIS OCTOBER
THE DISTANCE FROM
Sydney TO WOLLONGONG
My Activity Tracking
Distance
175km
My Goal
82km
Distance Rank: 630 / 1,707
I'm taking on this year's first VIRTUAL Challenge to fight MS!
Hey guys, "Papo" here and as most of you know I've been fighting MS for 25 years. 
I've been involved in the MS Gong Ride for 17 years now, and but this is the first year I get to do the MS Gong Ride on my own terms. I can ride as much as I like, when I like throughout the month of October to support others like me.
For those who dont know my story with MS - I was only 16 years old, when i experience my first symptoms, blurred vision, shortly followed by the feeling of pins and needles over my entire body, right before my HSC. I was finally diagnosed with MS in August 2001 at 22 years of age when all my symptoms struck at once. 
At that time, I was an apprenticeship as a chef. I was experiencing loss of balance and slurred speech. I kept falling and knocking things over in the kitchen, and so I had to keep proving to my manager that I wasn't coming into work drunk.
I also lost 97% of my vision, lost the feeling to most parts of my body, and it was extremely painful to be touched by another person. My GP referred me to a Neurologist and I had an MRI.  I was officially diagnosed with MS.
After years of confusion, it was a HUGE relief to have a diagnosis, because it explained all those invisible symptoms, and it meant I was not making things up or going crazy (which is very comforting).
Fast forward to today, and I'm still living every day with symptoms. I have pins and needles in my hands and feet, combined with a never-ending burning sensation and sharp stabbing pains over 90% of my body. This constant pain means, anything touching my skin hurts –the clothes I am wearing, having a shower, hugs. Even the bed sheets hurt, so I wake from pain each night. On average, I can only sleep about four hours per day.
The last few months have been pretty challenging... multiple sclerosis is a very lonely disease, but throw in a pandemic with social distancing…
I am taking on the challenge this October to do something really awesome for others, like me, who live with MS. I love to ask your support. All Your fundraising efforts through in the MS Gong Ride means that people living with multiple sclerosis can continue to receive vital support and personalised services.
Together we can ensure NO ONE has to fight MS alone.